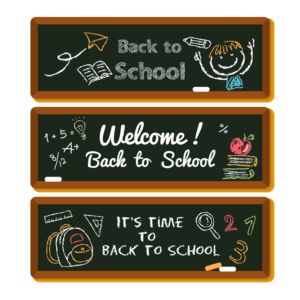 Yes, it's that time again. It feels like yesterday when the last school year ended. Vacation is but a nice dream and you're back to wandering at Target for school supplies. We hear you. Too fast, too much work, can't catch a break, right? Let us give you a little bit of perspective: school is where you go to prepare for life; to learn, make friends, meet new people, become a well-rounded person, achieve your dreams. Let's not forget that only a couple of hundred years ago only privileged children had access to education, and the majority of children were forced to stay home and take care of siblings or help around the house. Becoming an educated person is available to anyone these days, and is a gift. Take it!
School Is Important
Remind yourself why school is important to you; remember what you said you would be when you "grow up" and how you now have the opportunity to work toward that, day-by-day, little-by-little, with the help of teachers, colleagues, friends, family. Once you have established that, preparing for a new year in school will seem more like an exciting adventure than a burden.

Know Your Needs
Often times we forget how to properly take care of ourselves, or ask for the things that we need. Make sure you have breakfast before going to school, that you are well-rested and get the hours of sleep that you need. Parents should help their younger children have all of these needs met, and older students should make the effort to learn how to function best and take care of themselves.

Understand Your Environment
If you start in a new school, take the time to visit, check out the classrooms, the sporting facilities, the cafeteria. That way, on your first day, it will already look familiar and you won't have the shock of dealing with something completely new. If you are returning to your old school, maybe re-think the crowd you're hang out with; surround yourself with classmates who support and have the same goals as you do. Building a little study group of good friends who enjoy learning can make your life in school so much nicer!

Tackle Anxiety
We have all had our moments of panic in school, and with the time off due to vacation, the memory of these moments might magnify the intensity of potential ones. Whether it's a difficult pop quiz that you took and felt unprepared for, a physical evaluation, a presentation or simply too much coffee or soda, which threw you off, keep in mind you've been there before and survived. The best is to learn from these experiences and get into habits such as: practicing a little all the time at any subject, so you wouldn't feel taken by surprise by a pop quiz, grabbing your friends and asking for help, or simply cutting back on coffee and soda.

Planning
To make you feel more in control of your new school year, we suggest drafting a rough plan, or a homework schedule covering three months, or monthly, weekly, whatever works best for you. Sticking to that schedule will also give you a satisfying feeling of accomplishment, and will help you do better in school. Plus, slowly learning how to plan will prepare you more for the responsibilities of a job in the real world. So, plan away!